Zelig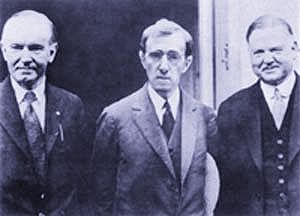 A bold complex experiment, a polished, effective comedy and a brilliant, thrilling, fascinating, staggering achievement. A mockumentary before the term existed, this movie shatters the boundaries of what mainstream entertainers should be capable of delivering to the public. It's hard to imagine another filmmaker of Woody Allen's generation (Clint Eastwood, Francis Coppola, even Martin Scorsese) getting anywhere close to the daring, peculiarity and audacity of this project (appropriate enough for a movie the theme of which is people refusing to do what others expect of them).
I've seen this movie a dozen times and have made a mockumentary of my own and with the exception of exactly two shots, I haven't got the slightest clue as to how Woody Allen pulled this thing off. I wish someone would write a book about the movie and its development from concept to script to shooting and into editing. Were all the plot elements in place when the picture went before the cameras, how did the documentary aspect of the project come into focus as the post-production went on, how much of the footage had to be created and how much was lucky finds?
With technical fireworks as dazzling as this, it's easy to overlook how great the acting is in this movie. Special note goes to the actor playing the elderly modern-day Mia Farrow, who has almost as much screen-time as Farrow herself and whose every remembrance is given just the right spin of humility, self-aware humor and grace.
Everything is utterly convincing, even when it's absurdly comic. In a time when mockumentaries are common (one is currently a smash boxoffice hit) and look increasingly unconvincing (Borat is funny as hell but is unconvincing as a documentary — why on earth would some of its events be filmed?), it's truly impressive to see one where everything from extensive, elaborate production design to precise, detailed extras casting to the grain and scratches on the fake old film is exactly right.
The movie I'm working on, The Bentfootes, contains less authentic detail than any given five minutes of Zelig, a fact I can live with only when I consider that our budget is probably less than the money spent in any given five minutes of the two years it took to shoot and edit Zelig. To watch this movie as a filmmaker is to feel one's feet turn to clay.