The Whale part 6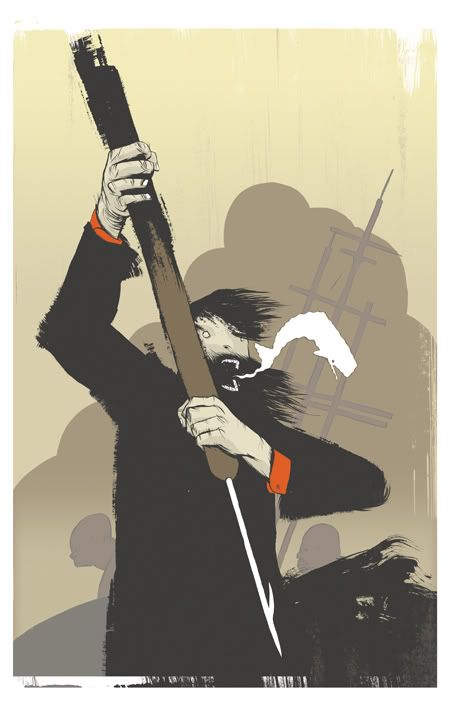 EIGHTEEN
(A ship, the Rachel, pulls up alongside the Pequod.)
SAILOR. A ship! A ship!
(Activity. The crew comes out on deck. Ahab stands at the rail. The captain of the Rachel, Gardiner, and his mates appear at their rail.)
STARBUCK. It's the Rachel. Out of Nantucket.
AHAB. That would be Gardiner. (to Gardiner) Have you seen the white whale?
GARDINER. Ahab! Thank God!
AHAB. Have you seen the white whale?
GARDINER. Yesterday – have you seen a whale boat?
AHAB. Yesterday! Where? Where was he? Not killed! You didn't kill him, did you? What happened?
GARDINER. Have you seen a whale boat? We lost a whale boat. Will you help us search?
AHAB. Where exactly did you see the whale?
GARDINER. We have to find that whale boat! Please help us find it! It's very important!
STUBB. What was on it? Your watch?
(Everyone on the Pequod laughs.)
GARDINER. My son.
(The laughter dies.)
My boy. My boy was in that boat. Please. Please help me find him. It's been almost a day and we can't find him. Please help us look for him. Me. Help me. I beg you. We have to –
AHAB. WHERE EXACTLY DID YOU SEE THE WHITE WHALE?
GARDINER. I'll, I'll charter your ship! I'll pay for it, I don't care what it costs. You have to help me. You have to.
SAILOR. His son is dead. They're all dead.
AHAB.(to Starbuck) What do you suppose is this man's problem that he can't answer a simple question?
GARDINER. Just say yes. Just tell me yes. You must say yes to me. I won't go until you say yes. The golden rule.
Sir. Captain Ahab. Your own boy. Your own child. Safe at home. What do you say? What is your answer?
STARBUCK.(to Ahab) Shall I give orders to follow her, sir?
AHAB. Why isn't he telling me what I want to know?
GARDINER. What is your answer?
AHAB. My answer is no. Captain Gardiner, I'm losing time. Good bye. Good bye and God bless you. I have to go. Mr. Starbuck! The binnacle!
(He exits. Everyone watches him go. There's a sick pause. Gardiner steps down from his rail, almost falling. His mates help him away. The Rachel glides away slowly as everyone watches. Fade out.)
NINETEEN
(The deck. Typhoon. Action. Men scurry about. Rigging. Alarum.)
STUBB.(singing) Oh! Jolly is the gale, and a joker is the whale, a'flourishing his tail – such a funny, sporty, gamy, jesty, jokey, hokey-pokey lad is the ocean, oh!
STARBUCK. Can it with the singing, Stubb! The typhoon is singing hard enough!
STUBB. I'll stop singing when you cut my throat, Mr. Starbuck! And I'll sing you the doxology for the wind-up!
STARBUCK. You're as crazy as Ahab!
STUBB. Where the hell is all this wind coming from?
STARBUCK. It's from the east! Look! If we can turn the ship around, it'll blow us all the way back home!
STUBB. How the hell can you tell which direction it is?!
STARBUCK. The quadrant!
(He produces a quadrant.)
I'm going to chart us a course to turn us around and get us the hell out of here! We're heading right into the storm! We have to –
(Ahab appears, carrying his harpoon.)
AHAB. Yes! The quadrant! I've been looking for that!
(He takes it from Starbuck.)
The quadrant! The direction-finder! The useless toy! Don't you agree that the quadrant is useless, Mr. Starbuck?! What can it tell you? Nothing!
STARBUCK. It tells you where you are!
AHAB. What kind of idiot needs to know that?! I know EXACTLY where I am! I'm RIGHT HERE! I'm RIGHT HERE! This toy can't tell me what I NEED! It can't tell me where one grain of sand, one puff of cloud will be TOMORROW, and it can't tell me where to find the white whale! It's useless! It's a useless toy!
(He smashes it on the deck. He addresses the sky.)
OLD THUNDER! IT'S ME! IT'S AHAB! HERE IS MY ROD! THE HARPOON THAT WILL KILL MOBY-DICK!
(Thunder. Lightning. The masts glow with St. Elmo's fire.)
STARBUCK. The masts! Captain, look!
STUBB. St. Elmo's fire!
(The sailors fall silent before the spectacle.)
STARBUCK. God have mercy on us all!
AHAB. YES! LOOK AT THE FLAME! THE WHITE FLAME THAT POINTS THE WAY TO THE WHITE WHALE! (to sky) HEAVENLY FIRE! (to a sailor) Hand me that chain! I want to feel this. Blood against fire!
(He is handed a chain which is attached to the mast and also glows.)
HEAVENLY FIRE! I WORSHIPPED YOU UNTIL YOU STRUCK ME AND SCARRED MY ENTIRE BODY FOR EVER! NOW I KNOW THAT WORSHIP IS NOT WHAT YOU WANT FROM ME, BUT DEFIANCE! YOU PUNISH THOSE WHO LOVE YOU, STRIKE THOSE WHO WORSHIP YOU, AND KILL THOSE WHO HATE YOU! I OWN YOUR SPEECHLESS, PLACELESS POWER NOW, BUT I WILL, UNTIL THE LAST GASP OF MY EARTHQUAKE LIFE, DEFY YOUR MASTERY OVER ME! YOUR POWER GAVE ME LIFE! YOU BREATHED YOUR FIRE INTO ME, AND NOW I BREATHE IT BACK AT YOU!!
(Lightning strikes the mast, several times. Ahab does not move.)
DON'T YOU SEE? I OWN YOUR POWER!! BLIND ME AND I WILL STILL GROPE, BURN ME AND I WILL STILL BE ASHES!! YOU ARE LIGHT LEAPING OUT OF DARKNESS, BUT I AM DARKNESS LEAPING OUT OF LIGHT! LEAP! LEAP UP AND LICK THE SKY! LET ME BE WELDED TO YOU! DEFYINGLY I WORSHIP YOU!!
(Lightning strikes and fire shoots out the end of the harpoon.)
STARBUCK. God's against you, old man! Stop this voyage now! Let's turn back and go home!
(Ahab throws the chain down. The harpoon remains on fire.)
AHAB.(to the crew) All of your oaths to kill the white whale are as binding as mine! If you still have fears, I will now blow them out!
(He blows on the harpoon, which immediately extinguishes. Blackout.)
TWENTY
(Night. Ahab's cabin. Ahab is asleep. Starbuck stands next to him, holding his musket.)
STARBUCK. He was going to shoot me. With this gun. Look at me. I've handled guns a hundred times, and now I'm shaking like a leaf. Is it loaded? Yes. It's loaded. Should I unload it? Perhaps. Perhaps.
This gun. He was going to kill me with this gun. This one right here. The one I'm holding. Right here. He would have killed me. He will kill me. He'll kill me. He'll kill the whole crew. He'll kill the whole crew. He smashed the quadrant, the typhoon ruined the compass, we're groping around blind. He will murder all of us. Thirty-odd men. Should I stop him?
He's talking in his sleep. But at least he's asleep. Which is the only way I can deal with him.
What could we do with him? What are my options? We could, what, tie him up? Put him in a cage? I'd like to see somebody try. Hell, even if we succeeded, we'd all be driven mad by his ravings before we ever saw land again.
I put the muzzle against his head. One touch, and I get to hug my wife and child again. God help me. Please help me.
(Ahab speaks in his sleep.)
AHAB. Moby-Dick! I clutch your heart at last!
(Starbuck jumps, wrestles with the gun. It looks like he's wrestling with an angel. He puts it back in its rack.)
STARBUCK. God help us all.
TWENTY-ONE
(On deck. It's a beautiful day.)
AHAB. Starbuck!
STARBUCK. Sir.
AHAB. Isn't it a beautiful day?
STARBUCK. Yes it is sir.
AHAB. Look at that sky.
STARBUCK. It's beautiful sir.
AHAB. It was a day just like this – just like this – I was eighteen – eighteen! Imagine being eighteen! Forty years. Forty years since I killed my first whale.
Forty years I've been on this water. Not three on land. Forty years I've eaten salted fish and hardtack while the poorest farmer on land had fresh fruit and warm bread. Married. Married one night, somewhere in there. One night before setting out. One night. One dent in my marriage pillow. Wife – wife! She's a widow. She's a widow. Forty years I've been chasing this fish and my wife's a widow. Forty years. A thousand lowerings. When would it be enough, do you suppose? To say enough. To say I'm finished.
What a fool I am. What a fool. Forty years and what? Am I a richer man? A better man?
Christ, what a burden. And me with only one leg to carry it. Do I look so old? Starbuck? I feel as old as Adam. All of history piled up on my shoulders.
Brush my hair out of my eyes, would you? I think it's making me cry.
Let me look at you. Let me look you in the eye. It's better to look into a human eye than to stare at the sea. Or the sky. Or God.
I see land in your eye. The green land. My wife and child. I see my wife and child in your eye.
Starbuck, do something for me. When we find the whale, you don't go. You don't go. You stay. You stay on the Pequod. This is my fight. This is mine. I will go to Moby-Dick. You will go back to the home I see in your eye.
STARBUCK. Captain, why does anyone have to chase that horrible fish? Anyone. You have done enough. This is already enough. A hundred times, a thousand times over, you've done enough. Don't you think? And on this day, on this beautiful day, this perfect day, let's just thank God for what we still have and just go home. We can do that. Let's just go. We can just turn around and do it. You tell me and I tell the men and we just do it. Just forget about the damn fish. Let it go on, doing what it does, it's not our business. Let it keep going on, scaring sailors and making us wonder just what the hell it was all about. We can do that, can't we? We can live with that, can't we? We can do it right now. This can all end. All this. All this hate, all this madness, all this horrible waste. It can all end. Right now. This instant. And back to Nantucket. Good old Nantucket, good old stupid backwards Nantucket. You tell me, and I tell the men, and we're on our way home. Can you imagine that? Happily, hysterically, on our way home. Home. Your family, my family, old age. Loving, longing, paternal old age. And telling your grandchildren your unbelievable tales of the sea. Sir. Captain. My captain. Surely, every now and then, they must have days like this in Nantucket.
AHAB. They do. They do. Summers. In the morning. My boy wakes up from his noontime nap and his mother tells him about his crazy old cannibal father. He's at sea now, but one day he'll come back to dance him again.
STARBUCK. My Mary! That's my Mary exactly! Every day, she promised, she takes my boy to the hill, to be the first to see my sail.
AHAB. Yes.
STARBUCK. Then that's it. We head for Nantucket. I'll chart out a course right now and we'll do it. Can you see your boy's face in the window? My boy's hand on the hill?
AHAB. Yes. Yes.
STARBUCK. Give me the order. We'll be home tomorrow, your face in your young wife's hair.
AHAB. I know what you're saying. Starbuck. I do. Why am I doing this? I don't have an answer. I don't know. I'll gladly tell you I don't know. This isn't me. I'm not the one doing this. I would never do this. I have no answers; I only have questions.
Is Ahab Ahab? Who moves this arm? Me? God? Or who? Does the sun move itself? Do the stars revolve in the sky on their own, or does God move them? And if God moves the heavens, then what am I? How can this one small heart beat, this one small brain think, unless God does that beating, does that thinking, does that living?
Smell that wind. It smells like a meadow. Somewhere they're making hay in the shadows of the Alps, sleeping in the new-mown grass under the noon-day sun. But one day we all sleep. No matter how hard we work, one day we all lie down and sleep in the field.
(He sees something, off.)
What is that? Did you see that? Call all hands! Did you see that? Look! It's his hump! It's his white hump! All hands! THE WHALE!
(Blackout.)
TWENTY-TWO
(Ishmael addresses the audience.)
ISHMAEL. This story is over. Ahab saw the whale first, and so the gold coin was his.
Three days we chased the whale. And I have to say, it was something. How it moved through the water. Impossible to describe. Glided. A mild joyousness. Very quick, but very still. A great form, cutting through the waves with an unknowable somnolence. It was hypnotic. We couldn't stop. None of us. No one complained after that. After seeing it. No one blamed Ahab any more, no one thought he was crazy any more. Not after seeing the thing. We all worked as one in pursuit of the whale. We couldn't stop. We knew what waited for us, and we couldn't stop.
(In dumbshow, boats chase Moby-Dick through the water.)
We lowered the boats and chased the whale through the water. After a time, the whale turned and attacked.
(Moby-Dick comes up from the water, knocking the boat out of the water, throwing men in every direction.)
He wrecked the boat, but no one was hurt. We got back on the Pequod and chased it for another day. On the next lowering, he smashed the boat, broke off Ahab's ivory leg, and took Fedallah down with him.
(We see this as well.)
Again, Starbuck begged Ahab to stop. And once again, Ahab insisted that it wasn't his decision to make.
And on the third day, Ahab took a boat into the water again. I was in the boat with him. We chased the whale, Ahab, his crew and me. We got a ways out, and then the whale turned and swam back towards the ship. Next thing we knew, the Pequod was sinking. Moby-Dick had stove in her side. And the Pequod sank without a trace. Almost without a trace.
That got Ahab mad. He threw his lance at the whale, and it stuck. By God it stuck. And it stuck hard. The whale pulled us, surging through the waves, so hard, so fast that I fell out of the boat, just like poor little Pip. I bobbed up and down in the water and watched as the whale pulled Ahab's boat, Ahab, who looked victorious at last. But as Ahab's line went out, it got caught around his neck, snapped it in two, pulled him over. And that was that. The last of Ahab.
(We have watched the above happen in silence. Now our focus returns to Ishmael.)
And everyone died. As you know. Except me. The only thing left of the Pequod was Queequeg's coffin. After he decided not to die, we had sealed it, caulked it, and used it for a life-buoy. Indeed.
And so I drifted. A day and a night. The sharks swam by with padlocks on their mouths. Then the Rachel, still looking for her lost children, found another orphan.
(Blackout. End of play.)