The Phantom Menace
Everyone knows that The Phantom Menace doesn't work. My 5-year-old Star Wars-obsessed son knows The Phantom Menace doesn't work (two hours into the movie, he asks "Does Darth Maul ever actually fight anyone?"). But the question I must face as a screenwriter is why. And, after seeing the movie a half-dozen or so times, I believe I have an answer.
The problem is not Jar-Jar.
Let's go back to first principles. What does the protagonist want? I thought about this for a long time, and then I realized something — I wasn't sure who the protagonist was.
So I thought, as a public service, I would run down the most obvious characters and examine their motivations.
Qui-gon Jin: He's tall, handsome, carries a lightsaber. He leads, others follow. He's in a lot of the movie. He's probably the protagonist.
Well, let's think about that for a moment. What does Qui-gon want? In the first act of the movie, Qui-gon wants to solve the mystery of the Trade Federation's invasion of Naboo. How far does Qui-gon get in unraveling this mystery? Not far at all. Qui-gon gets chased out of the Trade Federation's battle station, flees with his apprentice to Naboo, meets up with the Queen, tags along with her to Tatooine and then Coruscant, all the while stroking his beard and saying "Hmm, something about this invasion isn't quite right." Along the way, he gets distracted from his purpose by this little kid Annakin Skywalker, whom he is convinced is The Chosen One. He spends a lot of time trying to convince the Jedi Council of this, and they tell him to buzz off. He tags along with Queen Amidala as she goes back to Naboo to be with her people. He plays a role in the liberation of Naboo, but a Sith gunslinger who's been pursuing him kills him.
So, Qui-gon, master Jedi, how did you do? You never figured out why the Trade Federation invaded Naboo, even though the Sith Lord responsible for it sent his apprentice to kill you and the Queen, and you did not succeed in trainingthe little boy who you thought was the Chosen One. You couldn't even put the whammy on a big-nosed junk dealer. This, dear readers, is not the arc of a compelling protagonist.
OBI-WAN: He's white, he's young, he's good-looking, he carries a lightsaber. Maybe he's the protagonist.
What does Obi-wan want? Well, mostly he wants what Qui-gon wants, but sooner. He's impetuous, daring, impatient, bold and a little snippy. But he's the apprentice. He has no clearly-defined goals of his own. He's Qui-gon's baggage-carrier. Quite literally, as he is forced to take on the burden of the little kid when Qui-gon dies. With dire results.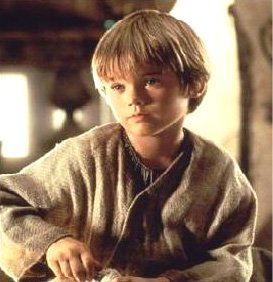 ANAKIN: he's cute, he's blond, he's a slave boy with big dreams and a charmed way with a pod-racer — a perfect model for a protagonist.
What does Anakin want? To get off Tatooine, preferably with his mother, but he'll settle for less if he can get it. Anakin achieves his goal, but his plot line has nothing to do with the rest of the movie. The Trade Federation did not invade Naboo because Anakin wants to get off Tatooine. And even though Anakin ends up saving the day on Naboo, he does so by accident — a disaster in plot structure. It's as though Luke blew up the Death Star without meaning to, he just happened upon the Death Star battle and accidentally shot some photon torpedoes into the crucial ventilator duct (or whatever it was).
QUEEN AMIDALA: She's young, she's pretty, she's white, she's a ruler, she can handle herself in a battle, she's the focus of the narrative, she drives a good chunk of the story. Is she the protagonist?
Let's put it this way: she's close. What does Queen Amidala want? To get rid of the Trade Federation's invasion army. How does she go about it? She puts her trust first in Qui-gon (who has no idea what's going on), then in Chancellor Valorum, then in Senator Palpatine. She's driving the story, but her naivety and passion for her citizens cause her to make some disastrous decisions. Even though she takes what could be considered decisive action, she is in fact a reactive presence in The Phantom Menace.
JAR-JAR BINKS: An important, secondary character, a comic reflection of many of the themes of the movie, but sorry, not a protagonist.
NUTE GUNRAY: How 'bout this guy? What does he want? He's the leader of the Trade Federation (whatever the hell that is). He wants — what? To take over Naboo? No, alas, no. Nute does not want to take over Naboo, that is a secondary goal. Nute wants to please Darth Sidious. He's made some kind of deal with the Sith Lord, one that keeps changing for the worse (as deals with Sith Lords tend to). The invasion of Naboo is a massive distraction (The Phantom Menace is filled with them — while a plotting disaster, it is, admittedly, quite thematically rich).
DARTH MAUL: He's striking, he's good in a fight, but he's a tool. He's no Obi-wan, he'll never question his master. He's no protagonist — he's barely even an antagonist. He's a plot point.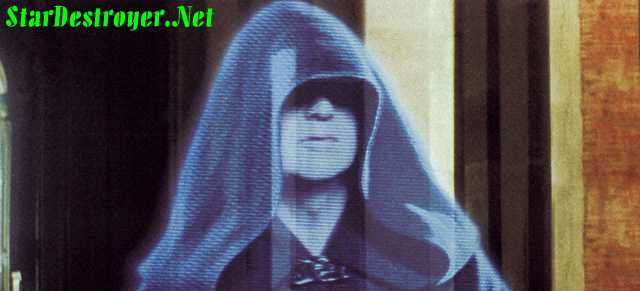 DARTH SIDIOUS: Now we're getting close. Darth Sidious is the reason all this is happening. Appears to be, anyway. Darth Sidious holds all the cards in this narrative has plotted with Nute Gunray to invade Naboo. When Qui-gon interferes with his plans, he sends his apprentice to kill him and capture the Queen. He has no effect on the subplot involving little Anakin, but that's okay. The question is, who is Darth Sidious?
SENATOR JOE LIEBERMAN PALPATINE: Here he is, the protagonist of The Phantom Menace. What does he want? To become Chancellor. The entire movie, the invasion, the droid army, the lightsaber battles, the pod race, everything in the movie happens because Palpatine wants to become Chancellor.
Now then: let's look at Palpatine's plan. Palpatine puts on his dark cloak, calls himself Darth Sidious (it is apparently his alter ego), makes a deal with Nute Gunray, which leads to the invasion of Naboo, which leads to Queen Amidala fleeing to Coruscant, which leads to Palpatine pressuring her into forcing a vote of no confidence in Valorum.
Four things wrong with this:
1. Palpatine does not show up until the beginning of ACT III, a major plotting disaster. How can we feel the dramatic tension of an evil plot if we don't know who has formulated it? All we know is there's a guy in a black hood who seems to hold the Trade Federation in some kind of sway, we have no idea what he wants or why he wants it.
2. His plan makes no sense. If he wants to become Chancellor, and his plot to become Chancellor involves Queen Amidala's vote of no confidence in the Senate, why does he try to keep Amidala on Naboo? He needs to get her to Coruscant — she goes there, but without him causing it to happen. What kind of evil plan is that?
2. Qui-gon, Obi-wan, Amidala and Anakin never know that he's their antagonist, a plotting disaster of the first magnitude. They never even know that Sidious is their antagonist. They spend the entire movie in complete ignorance of their antagonist. Think about that for a moment. A protagonist who spends the entire movie in ignorance of his antagonist — it's like if Neo spent all of The Matrix learning to manipulate the Matrix while Agent Smith sat in a room somewhere watching him, rubbing his hands together and saying "Some day, Neo, some day…"
3. Worse, the audience doesn't know he's Darth Sidious. Unless they've seen the other Star Wars movies. Which is why it's imperative to watch them beginning with Episode IV — The plot of Episode I makes no sense otherwise.
So there you go. Here is why The Phantom Menace fails — it's not Jar-Jar, it's not the acting, it's not the sets or the editing or the production design, or the pacing or the effects, all of which range from passable to excellent. It's the utter lack of a compelling protagonist. Everything else wrong with it flows from there.
A NOTE ON THE POD RACE: the pod race is a remarkable set-piece in its own right, but comes out of nowhere and, worse, doesn't mean anything. It is quite obviously based on the thrilling chariot race in Ben-Hur, but let's compare the two for a moment. The chariot race in Ben-Hur is, narratively speaking, the culmination of a lifetime of tension, sexual and otherwise, between Judah Ben-Hur and Messala, his boyhood friend. The two of them have been best friends, worst enemies and almost lovers, and the stakes of the chariot race are unbelievably high. That's what gives the sequence its charge. What are the stakes of the pod race? The stakes of the pod race are we need a part for our spaceship and a boy we just met wants to get off Tatooine. It's worse than slender, it's actually contrived. We don't need a pod race there, if Qui-gon is so sure the boy is the Chosen One, why doesn't he just steal the parts he needs and take off with the kid? Who's going to stop him?