The Man Who Knew Too Much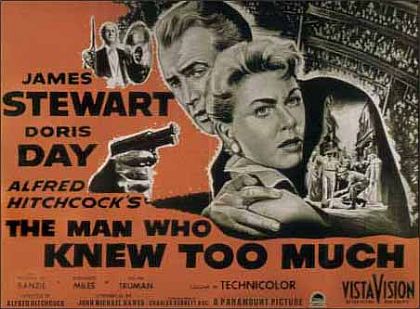 The Man Who Knew Too Much could be one of the most influential movies in history, although it may not seem like it at first.
In the first 20 minutes alone, we see an American couple whose marriage is on the rocks trying to patch things up with a bus ride through Morrocco (which showed up later in Babel) an American doctor and his wife attending a medical conference in a foreign country getting tangled up in international intrigue (which showed up later in the echt-Hitchcockian Frantic) and a hectic chase through a crowded Morroccan marketplace (which showed up later in Raiders of the Lost Ark). For good measure, Jimmy Stewart also mentions that he was stationed in Casablanca during WWII. With movies like these flooding the culture it's amazing that Americans ever leave home at all.
(And of course the whole "assassination at the concert" sequence was lifted for the 70s Hitchcock pastiche Foul Play.)
Doris Day is just smashing in this movie. Later she would rise to prominence as the light-comedic blonde stay-press goddess of Pillow Talk, Lover Come Back and That Touch of Mink (all of which this author highly recommends), but here she plays the bitter, regretful, eminently flappable wife of grumpy, out-of-sorts midwestern doctor James Stewart.
How screwed up is their marriage? Here's a good indication. James has just found out that their son has been kidnapped, but instead of telling Doris right off the bat, he's catty and brusque with her, prompting her to ask, snootily, "Are we going to have our monthly fight?" In answer to that, James forces her to take a sedative in order to put her out so that she won't be able to react when he finally tells her that their child has been spirited out of the country by ruthless assassins. Doris's reaction when she learns the truth is powerful and priceless; she acts like she can't decide whether to kill her husband, throw herself out the window, storm out the door or go to sleep.
Then there's a scene where they stand in the marketplace in Marrakesh, describing how so-and-so's gall bladder paid for their cruise tickets and so-and-so's tonsils paid for James's suit. The list goes on and on, over two scenes, as the two of them cheerfully describe how their luxury vacation has been achieved through the pain and suffering of ordinary people back home — in Indiana, which we are told might as well be Hell as far as Doris's life as an ex-performer isconcerned. So yes, I guess they have issues, but nothing that can't be solved through busting up an international spy ring and preventing an assassination.
The movie is breathtakingly suspenseful, including of course the famous Albert Hall sequence, which is attenuated almost to the point of absurdity. If the narrative has a flaw, it is this team of assassins, whose plan unravels at a startling pace and who make a number of clumsy, amateurish decisions when their plot is discovered.
We care about preventing the assassination not for the sake of the intended victim (about whom we know nothing) but for the sake of Doris, who won't see her child again if she doesn't allow the man to be killed. The tension of this dilemma is compounded when, after the assassination attempt, the intended target comes around to thank Doris for saving him and reveals himself to be a pompous, supercilious, extremely-pleased-with-himself autocrat and we think "geez, she put her kid's life in danger to save this asshole?"