The Long Goodbye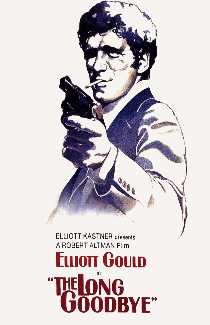 First of all, look at these images.
The first three are different poster designs from the original release of the movie (the second one, which you may not be able to see well, is drawn by Jack Davis, is styled as a Mad Magazine parody splash-panel, and can be viewed larger here. ). Presumably, MGM owns the rights to the first three images. Yet they chose the utterly anonymous, point-of-viewless, unemphatic final image for their current DVD release. (Note: for the DVD cover, they Photoshopped a gun into the character's hand so we would know this is a detective movie). The mind reels.
Many questions flit through my mind while watching this movie, some of which relate to the above posters.
Is this a parody? The Jack Davis poster seems to want to sell it that way. "Come see this movie, it's a self-conscious take-off on old-timey detective stories!" But the movie doesn't feel like parody to me, or even a comedy. It feels very much of its time and place, but it seems structured very much like a detective movie to me.
Is Elliot Gould parodying Phillip Marlowe, or merely updating him, translating him, as it were, for a new generation? The only thing I can tell for sure is that he's not imitating Humphrey Bogart, which would have been the exact wrong thing to do in any case. But who is Phillip Marlowe in the novel (which I have not read)? Does he wander around LA with a fuzzy, jazzy interior monologue running, acting like a dissolute smartass so that people won't know how smart and moral he is? (This performance really sticks with me, and matches the rhythms of LA so well that it's hard not to hear him muttering his off-kilter, offhand observations as I drive around.)
I've read many people talk about how Gould's Marlowe is an anachronism, how he's this forties guy wandering around confused in a 70s LA, but he doesn't feel anachronistic to me. He's in a strange position because he's not an aging hippie and he's not an uptight businessman, he's somewhere in between. Outwardly he judges no one ("It's okay with me" is his comment on every fresh indignity he encounters) but inwardly he's keeping notes, making connections and, when push comes to shove, judging quite harshly indeed. Isn't that Phillip Marlowe?
For that matter, did "Phillip Marlowe" ever really exist? Or anyone like him? The character that Chandler's audience read, and Bogart played, did that make total sense to readers and audiences of the time, or was he a fantastic concoction even then, like James Bond in the 60s, Shaft in the 70s (or Columbo for that matter), Buffy the Vampire Slayer in the 00s?
In many ways, it seems like this movie is the missing link between The Big Sleep and The Big Lebowski. A lot of the same characters from Lebowski are here, and The Dude in many ways seems like the logical extension of Gould's work. I wonder if, given 30 years time or so, Lebowski will seem less like a parody and more like an unconventional-conventional detective story as well.
Casting notes: seeing Sterling Hayden in a beard playing the alcoholic, washed-up writer reminds me that he was originally cast as Quint in Jaws. His performance here gives a tantalizing glimpse of what that might have been like. And a young man named Arnold Schwarzeneggar plays a nameless thug working for Jackie Treehorn Marty Augustine.