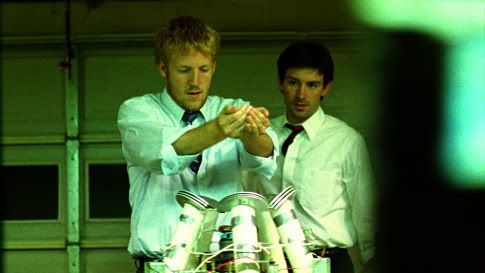 came over last night, ostensibly to watch Oliver Stone's World Trade Center (United 93 had made him curious). Over burritos from Taco Plus (surely the best burritos on the west side) he told me about his experiences shooting his guest shot on Without a Trace and I told him of my adventures wading in the dark, scary waters of the 4chan message boards.
After dinner, Urbaniak quickly jettisoned the idea of watching
World Trade Center
, as I had joked in an earlier e-mail that we might watch
All the President's Men
, an Alcott-Urbaniak touchstone, a joke which Urbaniak took with deadly, deadly seriousness. Both of us love love love
All the President's Men
, one of the key cultural events of our adolescences and still probably what I consider one of the greatest movies ever made, easily in the top five. It's the kind of movie where, for either of us, if we're channel-surfing at three in the morning and stumble upon it on AMC or something, we can't stop watching it, and that'll be it for the rest of the night. And, since it's practically the anniversary of Nixon's resignation, we figured what the hell.
Unfortunately, the DVD of All the President's Men I have dates back to the dawn of the digital age, and it became quickly apparent that it was a crappy transfer of an unrestored print, dark and muddy. About ten minutes in, I mentioned that I would go to the DVD store and get a remastered copy of the movie, and Urbaniak leaped in and said that he'd much rather do that than continue watching it now — watching movies on a high-definition projector on a nine-foot screen has turned both of us into frightful DVD snobs.
With both World Trade Center and All the President's Men scotched, Urbaniak said "Hey, what about that low-budget science-fiction movie you were raving about?" I had, indeed, raved about Primer in the past, modestly touting it as one of the most incredible movies ever made. I hadn't watched it in a few years (I saw it once in the theater, and probably three or four times on DVD) and was also eager to see how it would look on my big system. As much as I had praised it to Urbaniak, he assured me that I had not hyped it enough. The movie is flat-out unbelievable — a sheer delight and a heart-stopping sci-fi thriller from beginning to end, albeit in ways utterly unexpected and unpredictable.
First, there's the fact that it was shot for, they say, $7000. Now, anyone who's ever made a movie will tell you that $7000 gets you exactly nothing. For $7000, everyone is working for free and you make the movie on weekends in your living room. By all rights, a $7000 movie should look like utter crap, have non-actors giving non-performances and a script by a writer so untalented he couldn't get any money to shoot it. None of this happens with Primer — it looks great, the script is one of the best I've ever seen shot and the performances are uniformly excellent — but, I mean, really, really excellent.
As far as I can tell, Shane Carruth, who wrote and directed the movie (and stars in it, and edited it, and scored it, and designed its production and sound) is an ex-engineer of some sort who used what is, apparently, his extensive understanding of technical matters to concoct this story of a couple of guys who are working on some kind of project in their garage and who accidentally discover a new application for their invention. What Wikipedia doesn't tell you is that the guy is a born filmmaker.
When I hear "low-budget independent first feature," you know what I think of? I think of Clerks, a movie with a loose concept and a rough shooting style that requires the logorrheic charm of its writing and the attitude of its cast to hold an audience's attention. That ain't Primer. Primer has a brilliant concept, finely-crafted writing that, on every level, commands attention, exudes authority and confidence, filmmaking that crackles with tension and vivid, ultra-natural performances from actors and non-actors alike.
Scenes are written without the slightest consideration of "inviting the audience in," and cut to the bone of comprehension. The movie is about a bunch of wonks deeply involved in their world of engineering, and their conversations are full of — almost consist entirely of — long strings of technical terms as they debate this or that application of various mechanical processes. This decision creates incredible tension in the early scenes as the viewer struggles to keep up with the story, and also serves the dramatic purposes of the narrative, which is, essentially, about a start-up technical enterprise that goes bad. The characters, in some scenes, might as well be speaking in a foreign language, and so the viewer is forced to follow the non-verbal cues of the scenes closely — who is angry with whom, who no longer trusts whom, who is hiding what from whom, who is doing what behind who's back.
This is not merely excellent genre writing, this is screenwriting of the highest order. This should be the goal of every ambitious screenwriter — to present moments of detailed, impeccably observed, unadorned, uninflected human interaction, and the camera happens to be there in the room at the time. It's one of the hardest things to do, but Primer does it over and over again, in a narrative that relentlessly escalates into higher and higher realms of speculative fiction.
But that's just for starters. On top of being a screenwriter of the first rank, Carruth also knows, somehow, right out of the box, where to put the camera, how to cut a scene together for maximum tension and surprise, how to place actors in the frame, how to coax subtle, lived-in performances from his cast, how to design and dress sets, how to effectively score a scene, and how to act. It all feels ridiculously "real," which serves to make its fantastical narrative that much more creepy and suspenseful.
On the other hand, I've watched it four or five times now and am only now beginning to understand what the hell actually happens in it — this is a narrative so full of impressive twists and mind-bending concepts that it makes Mulholland Dr. look like Flipper. And it's all presented in the most subtle, least melodramatic form possible — go for a handful of popcorn and you could easily miss one or two key plot points. Carruth insists that the information is all there in the movie for people to figure out, and since he's obviously about ten times smarter than me I'm sure that's true. The nice thing about Primer is that its scene-by-scene filmmaking is so enjoyable (and its running time so brief) that it easily invites — no, cheerfully demands — multiple viewings.