Spielberg: The Name of the Game: L.A. 2017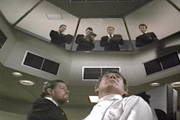 WHAT DOES THE PROTAGONIST WANT? Glenn Howard is some kind of media mogul. He has, literally, fallen asleep at the wheel and driven his car into a ditch. He awakens to find himself thrust 46 years into the future. He wants, logically enough, to know how this came to pass.
WHAT DOES THE PROTAGONIST GET? Although the people of the future are puzzled as to how Howard got there, the powers that be are happy to have him and generously show him around the LA of the future. As the philosophy of this new society gradually comes into focus, Howard becomes radicalized and eventually recruited by a revolutionary society.

The structure of L.A. 2017 is standard-issue Futuristic Dystopia:
ACT I: Howard finds himself in this weird new society, which exists almost entirely underground. He is scrutinized and puzzled over and eventually brought to the authorities. He learns about the ecological disaster that wiped out the bulk of human population and forced them underground, and learns a little about how this new society works.
ACT II: The Vice-President of LA offers Howard a job in the government of the future. Government officers, it seems, have it made, relatively speaking. He is given free reign to investigate this new society before he makes up his mind, and we follow him on his tour.
ACT III: Howard decides he doesn't like this new society of the future and vows to join whoever it is who might be against it. Those people show up just in time to help him escape. Their plan backfires and leads the government thugs straight to their secret headquarters. Howard then kidnaps the Vice President of LA and a thug and forces them to drive out to the surface. They are chased by the police and a shootout ensues. Then there's a twist ending that you'll never see coming in a million years.
NOTES: It's unfair to judge an episode of an ongoing TV series as a piece of director's oeuvre, and LA 2017 bears all the marks of a restrictive, low-budget affair. There isn't a shot in it that screams "YOU ARE WATCHING A MOVIE BY THE MOST CELEBRATED DIRECTOR IN THE HISTORY OF THE MEDIUM." The weird thing is, once one gets around the episodic-70s-TV origins, LA 2017 is actually a pretty interesting movie in its own right. A close cousin to THX-1138 (you could call it THX in Leisurewear) and a kind of micro-budget version of Minority Report, Spielberg seems to connect with the material here in a way that he does not in Something Evil, even though he later re-used many of the beats from Something Evil in Poltergeist.
The dystopia future of L.A. 2017 is this: an ecological disaster has wiped out most of the life on earth and made the surface uninhabitable. As the US government collapsed, the only people with the money and resources to start over underground were corporations. Corporations then took over, managing the affairs of the population in this harsh new environment. So, essentially, after screwing up the environment and making the planet uninhabitable, corporations then made an overt power-grab for the rest of the marbles. Tunnels and radio links connect what's left of the major cities and the nation is run as one would expect from a corporation — constant expansion, mind control, thuggery with a smile, total disinterest of understanding of how humanity got to this point or how to deviate from our present course. Women are bred to be sex objects, the populace is drugged into compliance, the people are provided with bread and circuses, religion is reduced to, essentially a Google Search (hmmm), nonwhites are hunted down and killed, babies are genetically engineered to weed out undesirable traits, dissidents are captured and brainwashed, the whole nine yards.
Because this is a low-budget affair, we see almost none of this — rather, we are told about it as the protagonist visits a series of rooms and men behind desks or in front of video monitors describe things to us. All this exposition is sad, and yet the very-real-sounding hypothesis keeps viewer interest piqued (this viewer, anyway). There's one scene so outrageously expository as to inspire gasps: Howard visits a man in the psych ward who he used to know back in the real world 46 years earlier (and I'm guessing was a regular on the show). The man in the psych ward is laced up in a straitjacket and bound to a wheelchair, immobile, and cannot even see Howard, who interrogates him from an observation deck above. So the scene is the man in the straitjacket staring off into space, reciting huge chunks of exposition to a man he cannot see, most of it in closeup. It is, essentially, a little Beckett play in the middle of an episode of The Name of the Game.
(I've never seen The Name of the Game before, but my research tells me it was unusual even for its time — it had three protagonists in rotating storylines, so that one episode would be about Robert Stack, the next would be about Tony Franciosa, the next would be about Gene Barry, and so on, with a more-or-less consistent cast of supporting players. Apparently this is one of the Gene Barry episodes, and judging from the titles, was "a very special Name of the Game.")
For some reason pertaining to his 20th-century magazine empire, Howard is deemed crucial to the government's efforts to control the populace. That's the fragile peg the bulk of the plot is hung on, and I'm guessing it was good enough in the context of the show.
Nice touches: jokes in the future are merely long series of numbers traded back and forth, there is only one cow in LA and provides milk only for corporate heads and their friends, all signs are painted with what I think of as Rollerball Font so we know it's the future, a dead goldfish is met with tears and bitter recrimination, as it was the last in the world, and when a police psychiatrist can't get his future-phone to work he bangs it on desk and shouts "CAN YOU HEAR ME NOW?!" When Howard goes to a local old-age home, the entertainment there is a group of octogenarians in hippie garb, singing ear-splitting psychedelic flower-power songs.
Howard is assigned a "companion" by the government named Sandrelle, and Sharon Farell does a terrific job of getting across the idea of a woman raised from birth to be a sex object. The character is not an idiot and she's not without a sense of humor, and there is a lot of wit, pathos and intrigue involved with her character, a woman who is, herself, fully awake to the corruption and contradictions of her situation but powerless to do anything about it. I watch the performance and think of the thousands of wise, snarky young bloggers who rail against the system while supporting it with every dollar of their income because it's all they've ever known.
Howard is, apparently in the context of the show, a ladies man, and therefore is obligated to bed Sandrelle. Spielberg is therefore given an opportunity to create a credible, mature seduction scene and can't quite do it — Howard's seduction of Sandrelle (well, actually, Sandrelle's seduction of Howard) is jokey and adolescent.
UPDATE: It seems a fair number of readers are impatient to know the super-secret surprise twist that comes at the end of this TV episode they shall probably never see. Such is the power of the storyteller. If I were Sheherazade, I would promise to tell you tomorrow and have you live in my thrall, but for now let me just say that Dorothy Gale, from Kansas, would watch the ending of L.A. 2017 and say "well duh."