Some more thoughts on Cloverfield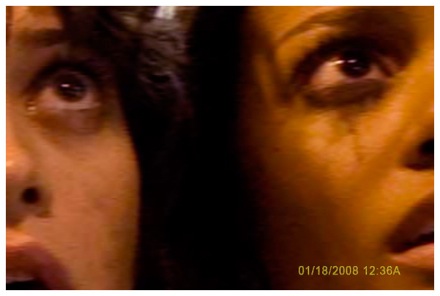 A Great Cinema Fan has taken the time to write a long response to my post on Cloverfield. As he has done me the courtesy of articulating his thoughts, I decided to take the time to further articulate mine. As GCF does not choose to be affiliated with one sex or another, I will use the traditional "he."
I could not disagree more with you regarding this film. It's baffling how you can compare this to Godzilla and the Posiedon Adventure…both those films had a disaster that the storytellers at least attempted to explain.
It is true that the writers of both
The Poseidon Adventure
and
Godzilla
attempted to explain the disasters central to their narratives. For the record, the explanation of the disaster in
The Poseidon Adventure
is "an underwater earthquake" and the disaster in
Godzilla
is caused by a very large lizard, awakened by an h-bomb test in the Pacific ocean.
Here's the thing about "explaining the disaster": the audience doesn't care. We don't care what caused the tidal wave, we don't care why Godzilla is awake. The explanations have absolutely zero dramatic impact. The scenes in both Poseidon and Godzilla where serious-looking men furrow their brows and discuss the science behind their disasters are not only the least interesting scenes in their respective movies, they are some of the least interesting scenes in all movie history. And that goes for King Kong (including the remake), The Towering Inferno, The Day After Tomorrow and especially the American remake of Godzilla. These are the scenes any child skips over to get to "the good parts," and any Great Cinema Fan would be embarrassed to be caught watching.

Let me ask you this; which do you think is more plausible; That the studio execs greenlighted this because of some high minded notion of introducing NY post 9/11, or, that they said "let's throw the statue of liberty around and put a monster in the film and not explain how it got there, because that would take too long and we want a small runtime to run more screenings per day and up our box office take"
I don't think either of these scenarios are remotely plausible. The studio greenlit Cloverfield because they thought it would make money, true, but "throwing the statue of liberty around" and "not explaining how the monster got there in order to cut down on the running time" were not factors in their decision.
However, if the studio made a decision to make Cloverfield a half-hour shorter than a conventional action-horror movie by cutting out the scenes where scientists and military commanders stand around in a dramatically-lit room and discuss, with furrowed brows, the science of the thing that's wreaking havoc upon Manhattan, I congratulate the studio for their acute cinematic acumen. But I suspect that these decisions were made by the moviemakers.

Godzilla was a dinosaur. This was a minotaur on steroids. My powers of suspension of belief are strong, which is a help because I enjoy sci-fi films, but this is another monster altogether.
It seems that the makers of Cloverfield have frustrated GCF by creating a monster with little basis in known morphology.

No explanation of what it is that's destroying NY. No explanation of how it got there. Nothing. Just disaster.

I'm sorry that Cloverfield didn't work for GCF, but the movie's mysteries surrounding the creature and the reasons for its appetite for destruction are exactly the reasons the movie works so well. It explores "just disaster" in exactly the same way that most people experience it — frightening, chaotic and completely meaningless.

What I have learned from this film is not that the majority of people are extremely easy to please, it's that a great many of the movie going public who like this rubbish are representative of a potion of American cinema today; a true lowest common denominator film.
I'm not sure what most of this sentence means, but I do agree that Cloverfield is a "lowest common denominator film" — anyone can enjoy it, no specialized knowledge is required.

It saddens me to learn that you as a screenwriter praises this film in the way that you have. I can only imagine other screenwriters feel the same.
This happens to be true — many other screenwriters do feel the same.

From a technical delivery point of view the movie treads water well, but from a screenwriters point of view it is absolutely atrocious.
This depends, I suppose, on one's definition of screenwriting. The ambitions of the screenplay for Cloverfield may be modest, and it delivers no wisdom greater than "hold on to the ones you love," but it achieves its goals with great skill and dexterity, and that, on any scale, is no atrocity.
I can at least take comfort from the fact that it is experiencing 60% plus drops weekend on weekend, which in movie business parlance means that it has no worthy word of mouth to help this "high point of American cinema" pass the hundred million dollar mark.

I thank GCF for his insights into "movie business parlance," but in current marketing schemes, a 60% drop indicates only that the marketing people did their job well — everyone who wanted to see the movie in the first weekend was able to. The movie business, to a large extent, is driven by opening weekends, which are engineered for maximum hugeness. Even with its relatively precipitous drop, Cloverfield has managed to make back almost three times its budget in three weeks, which, in movie business parlance, is a big, big hit.

Hopefully it's ineptitude to perform well at the box office post it's advertisement laden initial release will serve to remind Hollywood that making movies is about storytelling, the true foundation of great cinema.
As noted above, Cloverfield has performed just fine at the box office. GCF is correct that movies are about storytelling; it seems that I have a broader definition of storytelling than him. I find the storytelling in Cloverfield compact, efficient and streamlined — the moviemakers tell us what we need to know, and leave out everything else, and tell their story in a way that's stylish, surprising and keeps things moving at a breathtaking clip.

Releasing a movie absent of any story should reveal what these studio execs really think about you the viewer.
I have seen movies with weak stories. I have even seen movies with nonexistent stories. Stan Brakhage's Mothlight, for instance. Cloverfield's story is simple, but it is not weak, nor nonexistent.

By the by, I'm not quite certain of the stats to date but if I remember correctly this will be the lowest grossing film at the box office as a function of its opening weekend, in the action genre, in over 25 years. Check out HSX.com or boxofficemojo.com for the stats if you're so inclined.
I believe I will.
Box Office Mojo, the site I find most efficient for these things, lists Cloverfield as "Action Horror," but does not have a list of Action Horror grosses that I can find, nor plain Action (which strikes me as odd). Cloverfield currently ranks #117 of all opening-weekend grosses in history ($40 million), ahead of such comparable movies as Alien vs. Predator ($38 million), Armageddon ($36 million), Minority Report ($36 million), Lethal Weapon 4 ($34 million), Live Free or Die Hard ($33 million), Lethal Weapon 3 ($33 million), Blade II ($32 million), The Sum of All Fears ($31 million), Saving Private Ryan ($30 million), Constatine ($30 million), and about ten billion other action/adventure/horror titles. So "lowest grossing film at the box office in the action genre" seems to be a pretty poor description of Cloverfield. It is also the biggest January opening in history. With a well-spent budget of $25 million (I shudder to think what the marketing budget was), it will most likely end up being one of the most profitable movies of the year, if not the most profitable.
I understand that some people don't like Cloverfield, and its hard for me to believe that a movie this simple and direct went "over their heads," so once again I have to assume that there is something else about the movie that does not sit well with this rather vocal minority.