My list of over-seen masterpieces
Thanks to everyone who has answered the call of my earlier query. Many excellent ideas have been put forth and I encourage further thought on this.
Here is a list I compiled while leafing through Sister Wendy Beckett's history of painting. It is all "usual suspects" and is intended to weed out the over-seen.
Van Gogh: Self-Portrait, Starry Night (above), Sunflowers, The Artist's Bedroom
Botticelli's Birth of Venus (see previous entry)

Rembrandt Self-portrait

Picasso: Guernica, Old Guitarist, Three Musicians, Les Demoiselles d'Avignon

Munch's Scream

Dali: Persistence of Memory

Seurat's La Grande Jatte

Head of Nefertiti

Greek discus thrower

Rodin: The Kiss, The Thinker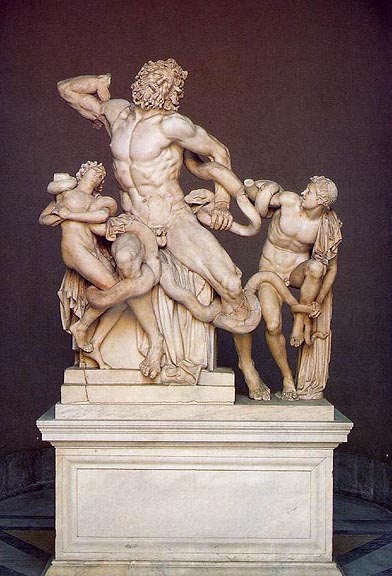 Lacoon and His Two Sons

Gutenberg Bible

First Folio

Eyck's Arnolfini Marriage

Bosch's Garden of Earthly Delights

Davinci's Universal Man

Breugal's Tower of Babel

David's Death of Marat

Vermeer's Girl with a Pearl Earring

Gainsborough's The Blue Boy

Gilbert Stuart's Unfinished Portrait of George Washington

Ingres's Grande Odalisque

Goya's May 3, 1808

Gericault's Raft of the Medusa

Whistler's Arrangement in Black and Gray: the Artist's Mother

Wood's American Gothic

Manet: Le Dejeuner sur Herbe, Bar at Folies-Bergere

Monet: Waterlily Pond

Klimt: The Kiss

Brancusi: The Kiss, Bird in Flight

Rousseau's Sleeping Gypsy

Warhol's Gold Marylin

Mondrian's Broadway Boogie Woogie

Matisse's Dance

Magritte's Apple-face guy (already taken by Thomas Crown, I'm afraid)

Giocometti's Walking Man

Reinhardt's Abstract Painting #5

Rauschenberg: Monogram, Canyon

Lichtenstein: Whaam!

Degas: Prima Ballerina

Renoir: Le Moulin de le Galette (God I hate Renoir)

Cezanne's Fruit Bowl, Glass and Apples

Robert Indiana's Love

Jasper John's Three Flags
Then there are a handful of 20th-century guys who don't really have one standout work (at least not in popular consciousness) but who's stuff would be recognized as a type: Rothko, Pollock, Calder, De Kooning, and to some extent Warhol.