Moonraker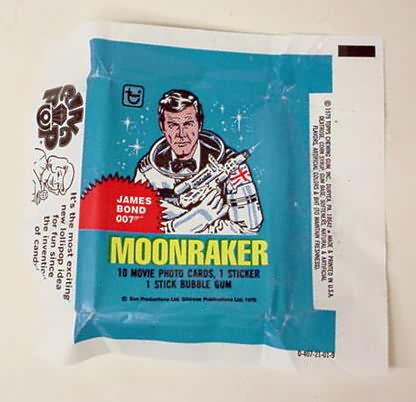 WHO IS JAMES BOND? James Bond is a world-famous super-spy. Everyone recognizes him — hey, there goes James Bond, super-spy! I sure hope he's not investigating me! Why is James Bond world-famous? Why would a super-spy — a secret agent — seek to publicize his existence? The answer, here, is obvious — to better impress women. In the past, Bond, a pathological masher, has spent too much time wining and dining women, and let's face it, he's not getting younger — there are still plenty of beautiful women on the planet and if you want to have sex with all of them, you can't hide your light under a bushel, you've got to advertise. My name is Bond, James Bond — we make sexytime now, yes?
Up 'til now, James Bond has looked great, until he went in for the kiss. When he went in for the kiss, he got this horrible crinkly skin around his neck. He's still the same guy, except now when he does
anything
with his head (like look up or down or from side to side) it's not just his neck — his
entire face
is covered with the same crinkly skin.
WHAT DOES THE BAD GUY WANT? Hugo Drax is a a multibillionaire with an aerospace industry. He wants to destroy all humanity and create a super-race in space. He has built a space station to house his super-race people, and has developed a potent nerve gas to launch into Earth's atmosphere, killing everyone.
WHAT DOES JAMES BOND ACTUALLY DO TO SAVE THE WORLD? Screw Sherlock Holmes — James Bond is undeniably the world's greatest detective. Sherlock Holmes has to assemble a series of abstruse clues and somehow deduce the truth that lies behind them — James Bond just kind of wanders around exotic locations, and every time he walks into a room, it magically contains the exact clue he needs to take him to the next location! And you know what? Bond doesn't even know what he's looking for! That's how great a detective he is! He doesn't even need to look for clues, they just come running up to him like cuddly puppies! Or, to be fair, there are two kinds of rooms in Moonraker; rooms that contain clues and rooms that contain assassins. Sometimes both.
An American space-shuttle has gone missing. Bond is sent to track down what happened to it. No one says anything, anywhere, about a big space-station or a plan to create a master-race in space or a scheme to kill all humanity — Bond just kind of stumbles along, following clue after clue, until Drax finally just explains the whole plan to him.
Get a load of this piece of detective work: As I say, a shuttle has gone missing (hijacked by, who else, a couple of guys in leather jackets). It's manufactured by Hugo Drax. Bond goes to investigate Drax. Why? Who knows? Bond is the world's greatest detective; anywhere he chooses to start will inevitably be the correct place to start.
He walks into a room. Who's room? Who knows? It's a room, Bond's in it, it's bound to contain a clue of some sort.
There's a clock. He opens the clock-face. The clock rises up off its pedestel — there's a concealed safe! Aha! A clue! Bond opens the safe — there are blueprints inside! Another clue! He takes photographs of the blueprints (a comparitive rarity in Bond movies — actual spy-work). The photgraphs reveal a diagram with some hexagons in it — hexagons! A clue! I bet it has something to do with space travel — everyone knows that space stuff is all about hexagons.
He travels to Venice. He walks into a glass-blowing factory. A couple of guys are blowing glass cylinders. Bond inspects one — it's a hexagon! Now Bond is not a master of geometry, so just to make sure he's not on some crazy wild goose chase, he takes his photograph of the blueprint-diagram out of his pocket and holds it up next to the glass cylinder — yep! Six sides — that's a hexagon! Another clue! This Drax fellow must be up to no good, he's working with hexagons! In glass! What devious glass-hexagon scheme must he be involved in?
And it just goes on like that. Bond has Q analyze a liquid in a tube he finds in Venice — it's a nerve gas — a clue! The nerve gas is derived from a rare, deadly species of orchid — another clue! The rare, deadly species of orchid can only be found in a small area of central South America — another clue! I bet if we go to that remote area of central South America, we will inevitably find The Villain's secret hideout, which will contain his gigantic underground space center!
I would like to start Moonraker over again, but put Bond in a different room at the beginning — maybe the lobby of the Empire State Building. And he could look at the list of tenants in the lobby — a clue! and discover that one of the tenant's names is Xard — "Drax" backwards — another clue! And so forth, see if perhaps every room in every city in every country in the world contains clues as to Drax's evil scheme to eradicate humanity.
WOMEN? Lois Chiles plays Dr. Holly Goodhead. Burdened with a name like that, one might forgive the producers for not finding the best actress for the part. But I am pleased to say that Lois Chiles, while not exactly the next Katherine Hepburn, manages to play her role with great wit and dignity, something I would not have thought possible in this movie, and crushes Barbara Bach like a grape.
She's also easily as good a detective as Bond is. When they're inside Drax's enormous underground space center, Bond says "Which way?" And Goodhead looks around, shrugs, and says "How 'bout this way?" And off they go, stumbling across a rocket ship that just happens to be taking off at that moment.
HOW COOL IS THE BAD GUY? I doubt anyone could be actually cool in this movie. Hugo Drax has a French estate that he's transferred to Los Angeles, which is pretty cool, but otherwise all his attempts at cool come to naught. He's got a standard-issue karate-master hit man, who walks around his French country estate dressed in his karate outfit, just in case you missed that he's a karate guy — and you know how the karate guy tries to kill Bond? That's right — in a centerfuge! Ha! That will show you not to mess with Karate Guy! He's got Jaws from The Spy Who Loved Me, who becomes the Wiley Coyote of Bond Second Villains — except with worse comic timing. He's got a gigantic Ken Adam-designed space station, which looks great until it's starts getting blown up, and then it starts looking suspiciously like a plastic model dangling on a string. He's got the balls to quote Oscar Wilde, Jean Renoir and 2001 in this crappiest of entertainments, which I guess gives him a kind of coolness. He doesn't have a shark tank, but he does have an enormous-rubber-snake tank. But he's hamstrung by his role as Bond Villain. Bond has shown up at my estate — as a Bond Villain, it is now my duty to try to kill him. Bond has now made it all the way to my secret space center — in spite of the fact that I've been trying to kill him for the past 90 minutes, I it is now incumbent upon me, in my role as Bond Villain, to graciously explain my evil scheme to him. Which is not cool at all.
SCIENCE TIDBIT: When you're in zero gravity, you do everything exactly as you would in regular gravity — you just do it slower.
NOTES: Before the crackerjack sky-diving stunt sequence at the beginning of the movie, Bond is making out with a woman in an airplane. Suddenly, she pulls a gun on him! Oh noes! And then the pilot comes out of the cockpit, and the cinephile is baffled to see that Rupert Pupkin has been flying the plane. Which cannot be a good sign.
Moneypenny no longer flirts with Bond. Because, let's face it — she's old.
Q is back to the stupid goddamn "standard issue" bullshit again. I want to punch him when he pulls that crap.
When Bond goes to Venice (insert "Moore of Venice" joke here) there's an incompehensibly stupid gondola chase, ending with Bond's gondola transforming into a hovercraft, and a pigeon doing a double-take. This is, I think, supposed to signify that the filmmakers know that the movie they're making is incredibly stupid. But one watches sequences like this and wonders why Hollywood bothered making Austin Powers — Bond is already quite capable of ruining his own reputation, thank you.
There are references to Woody Allen, Close Encounters, and Clint Eastwood. Why not the Village People, Pet Rocks or Looking for Mr. Goodbar? The Eastwood reference is particularly annoying as it's accompanied by the theme to The Magnificent Seven — apparently there are no easily-identifiable music themes associated with Clint Eastwood's westerns. Here, Moore stops recalling Sean Connery and starts anticipating Leslie Nielsen — hey, you know what would be funny? James Bond dressed as Clint Eastwood!
Moonraker proves, if proof were ever needed, that the James Bond formula is not as easy to replicate as it appears to be. There is a delicate balancing act going on in each one of these movies — he must be dissolute yet motivated, oversexed but not a pervert, a killer but not a brutal killer, so forth. He must be aware that he exists in an absurd, colorful, essentially comic universe, but he must carry that knowledge with coolness and wry dignity. The string that has always held Bond in place was taut to begin with, was stretched too far in The Man With the Golden Gun, and here snaps with an unattractive plonnggg! Bond may be the most supernaturally directed detective in history, but Moonraker's sense of direction is nonexistent.
Moonraker was the first Bond movie I ever saw in a theater. I'd been hearing about Bond for ten years up to that point and finally had to see what my older brothers were always talking about. Suffice to say, I would not venture to see another one until Goldeneye.