Justice League of America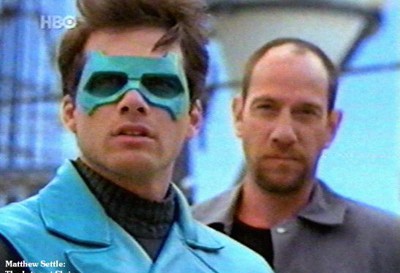 Martian Manhunter David Odgen Stiers fights middle-aged spread, while Green Lantern wonders if he can turn to confront Miguel Ferrer with a straight face.
Strangely enough, in 1997, while the world was waiting for Bruce Timm to create the show Justice League, CBS commissioned a pilot for a live-action Justice League of America. And as it happens, my local video store happened to have a copy of this little-seen pilot. As a "free rental," no less. How could I resist?
A perfect example of how wrong a thing can go, Justice League of America shows what can happen when a decent idea falls into the hands of the uncaring. Now mind you, I never thought the original comic books (that is, in 1960) were any kind of ground-breaking miracle (they are mostly busy-work potboilers), but the makers of Justice League of America do not seem to have given a thought as to what their show is even about.
The lineup of this particular Justice League, for those interested, is Martian Manhunter, Atom, Flash, Green Lantern, Fire and Ice. The key thrust of the show seems to be "What if the Justice League were ordinary people, trying to lead their ordinary lives, trying to love and work and make friends, but then periodically having to dash off to save the world?"
Now, I'm all for superheroes behaving like human beings (that is, in fact, what makes the Bruce Timm show so successful), but there are limits. In Justice League of America, the superheroes aren't just ordinary, they are desperately ordinary — sub-par slackers, halfway between The Incredibles and Mystery Men.
Take the Atom, for instance. In the comics, the Atom, Ray Palmer, is a brilliant physicist. That isn't just a plot convenience, it's the whole character. Ray Palmer must be a brilliant physicist because he invented the suit that enables him to get microscopic. In Justice League of America, Ray Palmer is a doughy, dull-witted, bespectacled high-school science teacher, unable to fix a television, much less rearrange the molecules of, say, an alien menace's brainwaves.
Or the Flash. For the purposes of this show, it has been decided that Barry Allen can't get his life together, attract women, or hold down a job. And so there is much "comedy" mined from Barry's job misfortunes, lack of money and boredom. Why can't he hold down a job? Well, because he moves too quickly, of course. Because apparently, in the world of this show, speed in one's work is something that is frowned upon.
Or Green Lantern Guy Gardner (well, he's called Guy Gardner, but he wears Kyle Rayner's outfit, and of Lanterns, most closely resembles Rayner in temperament). The man who carries the most awesome weapon in the universe is a blithe, jokey ad executive, a man who has never given a moment's thought to the responsibility he carries or the lineage he serves. I once wrote that Green Lantern is a job, but for Guy Gardner it appears to be more of a hobby.
Instead of watching Earth from their Watchtower up in space, this Justice League lives in a dumpy, retro apartment, where they bicker about chores and their love lives. That's right, it's Friends with superpowers. Far from protecting the world from intergalactic menace, it takes the whole team to protect one city from a terrorist with a plan that Dr. Evil would pass on as too absurd.
Now then: there is plenty in comics history to suggest that a group of superheroes with screwed-up personal lives could click — something 2000's X-Men did beautifully — but what happens here is, disaster of disasters, the protagonists, dull as they are, become less interesting when they don their colorful outfits and fight crime. Their costumes are atrocious and laugh-inducing; they look like idiots dashing around their fake city in their bulky, ill-fitting suits and masks, rescuing tykes and dragging cats out from underneath porches. They have no ideas for fighting a menace or saving the city, they just kind of plod along, putting out fires while they wait for evidence to fall into their laps.
For those interested in viewing some representative clips, they may be found here.
The cast and crew of the pilot is a solid bunch of TV professionals, which makes it all the more perpexing that the show feels more like the production of some enthusiastic amateurs, not quite as polished as this.