From Russia With Love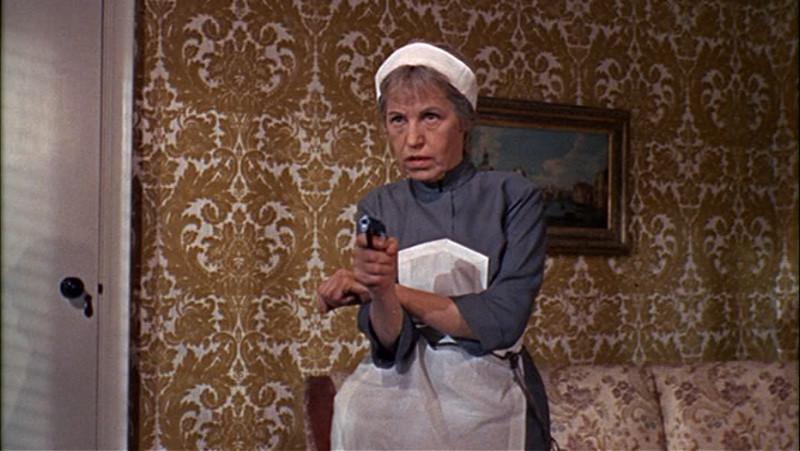 Tania: woman. Rosa Klebb: mm, not so much.
WHAT DOES THE BAD GUY WANT? The bad guy is the mysterious, faceless, cat-laden "Number 1," leader of SPECTRE. SPECTRE, the super-criminal think-tank, as in Dr. No, wants to rule the world. To do that, it is imperative that he gets his hands on a special decoder thingy. We come to understand a good deal more about SPECTRE, its organization, its training methods and its structural politics in the movie. However, what Number 1's "Monday Morning" plan is remains undiscussed. Is he prepared to rule the world once he gets it? What are his plans for health care, security, taxation?
WHAT DOES JAMES BOND ACTUALLY DO TO SAVE THE WORLD?
Again, not a detective story. Bond shows up late in the movie (18 minutes late, to be precise) and gets shown around Istanbul by
FRIENDLY ANIMAL
Ali Kerim Bei. Kerim gets a whole bunch of screen time and the movie is almost a travelogue until 55 minutes in, when Bond finally meets Tania, a lovely Russian embassy worker who says she wants to defect (but is, of course,
not what she appears to be
). Once Bond meets Tania, the movie kicks in and glides on rails. Bond, by my count, does exactly three things: he plots to bomb the Russian Embassy in Istanbul, walks in and swipes the decoder thingy afterward, then gets Tania and the thingy on a train to safety. Again, the rest of his time is taken up with people trying to kill him. In a larger sense, however, the key to the narrative is Bond's corruption of Tania. Tania is an innocent embassy employee, recruited by mean lesbian (and SPECTRE "Number 2" [or 3, I got confused]) Rosa Klebb to seduce Bond and rope him into this scheme to snatch the thingy. Tania believes she is using her womanly powers of seduction to get Bond into a trap, but Bond adroitly harnesses the captialist, free-thinking powers of his superior western genitalia to counter-seduce Tania. In a way, that's the whole movie — the power of Bond's genitals to free the Eastern Bloc from its bondage.
WOMEN? Four. The first is the ladygambler from Dr. No, who has now acquired a name (it's "Sylvia," for those keeping score), then Bond scores a two-for-one deal with a pair of Gypsy women (the women are deadly enemies until exposed to Bond and his culturally advanced, egalitarian genitals), and finally Tania, to whom Bond remains loyal for the remainder of the movie.
HOW COOL IS THE BAD GUY? Nowhere near as cool as Dr. No. He's got a yacht, a cat and some fish. Yawn. However, he's got two of the best "second villains" ever — Robert Shaw, who is incandescent in this movie, and Lotte Lenya as the aforementioned Rosa Klebb. Robert Shaw comes with a watch-wire garrot thing (which later shows up on the wrist of John Lithgow in Blow Out), Lotte Lenya comes with a pair of deadly shoes. These guys make a great pair — Shaw is the proverbial brick shithouse, unstoppable and cunning, yet also utterly believable, and Lenya is tiny but a cruel, stone-hearted monster — and also utterly believable. To make a measure of how good Shaw is in this movie, watch it and try to even imagine him, ten years later, as the Irish gangster Doyle Lonnigan in The Sting, much less twelve years later as the crusty seadog Quint in Jaws. And yet all of those performances are highly stylized, not naturalistic at all — he's practicing a kind of heightened naturalism, his choices specific yet cartoonish. Lenya, on the other hand, knows she's no physical match for Bond — the cowardice on her face in the scene at the end when she sneaks into the hotel room disguised as a maid is great — but you know that she's so cold that her heart (or other body parts) could never be melted by Bond's fiery western genitals. Rosa is there as the anti-Tania, the "bad" woman, her soul locked behind an emotional Iron Curtain.
GADGETS? A handful. Bond gets a briefcase full of crap from Q. Sniper rifle, exploding talcum powder, hidden knife, 50 gold sovereigns — all standard issue, we're told. Which leads me to ask: standard issue, pursuant to what? These new gadgets seem to take Bond by surprise, as though it would have never occurred to him to need anything as obvious and vital as exploding talcum powder. And yet why is Q dreaming up all this stuff? Here's what I'm saying: ideas come from somewhere. Q's not out in the field, he's in his lab at Q division. Agents are in the field. Obviously, agents must be coming back from missions complaining about a crucial lack of exploding talcum powder.
Q. How was the mission, 006?
006. Oh, it was all right — tell you what, though — I really could have used some exploding talcum powder.
Q. You know, you're the third agent to mention that this week. Hang it all, that's it — from now on, all agents shall carry exploding talcum powder in their briefcases at all times. We cannot afford the endangerment of any more agents.
006. What briefcases?
Q. W-why, your, you know, your briefcase — don't you carry a briefcase?
006. No one ever gave me a briefcase.
Q. No br — ! All right. All right. That tears it. God damn it, we're sending agents out there naked! I'm issuing a memo — all agents shall have a standard issue briefcase with exploding talcum powder.
006. And a hidden knife.
Q. Yes, yes — hidden knife, good —
006. And a sniper rifle —
Q. Well yes of course a sniper rifle —
006. And fifty gold sovereigns.
Q. Now how the devil am I going to get fiftygold sovereigns into a — never mind, I'll figure it out.
006. And —
Q. Out! Out! I need to think.
NOTES: One movie into the series and already Bond is getting a little mannered, a little self-conscious. He cannot kill anyone without adding a witty bon mot, and his seductive powers are already leaning toward camp. He carries more than the weight of the western world on his shoulders, he carries the weight of his own reputation. He's James Bond, he must act like James Bond.
Narratively, a whole different ball game from Dr. No. Apart from taking its sweet time getting started, we spend a whole lot more time examining the motives and machinations of the bad guys. My favorite bit is Rosa Klebb flying from Number 1's yacht to SPECTRE Island, where all the top SPECTRE bad-guys are trained. She is escorted through a training field, filled with men running and shooting and killing and karate-chopping, until she comes to Robert Shaw sunbathing. Shaw snaps to attention, Klebb punches him in the gut, says "he'll do," then turns around and leaves. Doesn't stay for lunch, doesn't want to see anyone else, doesn't have any papers or requistions to fill out — she spends an afternoon and god knows how much money flying to SPECTRE Island just to punch Robert Shaw in the gut. Now that's a bad guy.