Brice Marden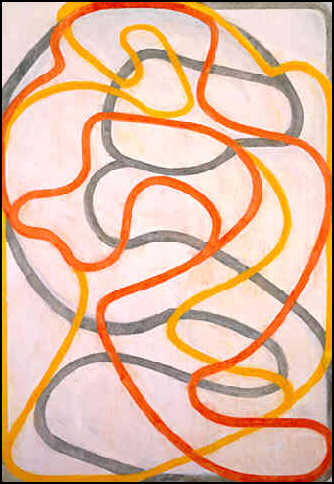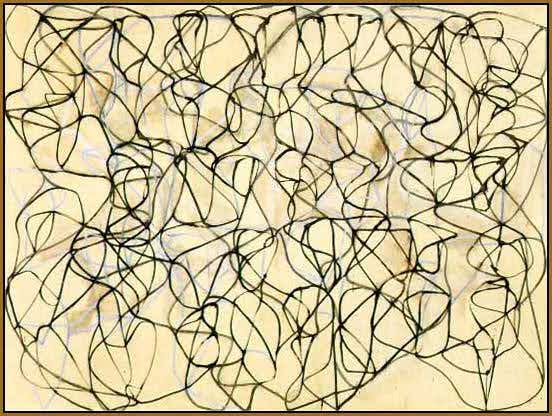 Brice Marden, America's greatest living painter, has what I believe is his first full retrospective of his work showing at MoMA right now through mid-January.
If you care anything about abstract art or American painting, or if you have a soul, I encourage you to see this show.
Yes, that's right, when I'm not dissecting TV shows, writing movies about talking bugs or watching movies about futuristic utopias, I can often be found strolling about the world's institutions of modern art, searching for dramatic collusions of lines and colors.
I was not always like this. I used to think abstraction was a fraud. I didn't "get" it, I thought the artists were either delusional, working under an exaggerated or even fabricated sense of their own importance, or else laughing at us as we gazed in confusion at their messageless works.
Brice Marden changed all that.
I still remember quite clearly when it happened. About 10 years ago I was in Cambridge with my bride-to-be and I stopped in at the local art joint to see a couple of Sargents they had on display. I never got as far as the Sargents because there was a show of Brice Marden drawings on the first floor. They were opaque and confounding, yet lyrical and intriguing at the same time. They were, I found out, drawn with anything but a pen — Marden will use twigs or shells, dipped in ink and held at a distance, to keep his line naive and undisciplined — and utterly bewitching. They looked like trees or vines or hedges or something, but they were both that and not that; they were both representative of things and also just marks on paper. And suddenly I "got" abstraction. In fact, I suddenly understood what the word "abstraction" means.
And the floodgates were opened. Suddenly I "got" Pollock and DeKooning, Sigmar Polke and Gerhard Richter, Barnett Newman and Cy Twombly (O! Cy Twombly — for added value, there are also a half-dozen crucil, essential Cy Twomblys hanging in the Big Gallery space at MoMA). And I went from being a guy who thought abstraction was a fraud to being a guy who now can barely tolerate representation — I keep thinking a representational artist is trying to sell me something. And now I'm the kind of guy who drags reluctant friends and family to places like the Dia Center in Beacon NY to see Richard Serra's Torqued Ellipses (I'm still cursing myself for not getting to Houston for the Twombly show a few years ago). Now I'm the kind of guy who stops to look at a crack in the sidewalk or a badly-painted wall or a carelessly-whitewashed window. For me, a painted surface is now filled with light, a line brings in drama and a whole bunch of lines, artfully arranged, can produce an almost unbearable tension.
You may hate the Marden show. When I was there today there were plenty who did. Galleries were dotted with confused middle-aged women and disgusted middle-aged men, wavering between not being sure if they were being conned and utterly sure they were being conned. The men were particularly angry about it, sniggering to each other, voicing their moral superiority, muttering threats to the artist and, in one case, even wishing him a violent death. I'm not sure what provokes a reaction like that, I don't know what one is expecting when one comes to the Museum of Modern Art. It seems to me that someone who sees a show as positive, life-affirming and glorious as this and reacts with a wish of violence upon the artist probably shouldn't bother walking into an art museum in the first place.
UPDATE: Thanks everyone for writing in. For the folks who hate this stuff, let me reiterate, I used to hate it too. Now I don't and this guy is the reason. I'm not an art historian, I'm not a theoretician and I'm sure as shootin' ain't no elitist. He opened up a whole new artistic world for me and I'll never forget it.
And for those who like this stuff, here's a few more. Thanks again!